Operate EV charging services
Charge Point Management System without fixed cost!
Start using EV charging data for your business
Charge Point Management System for EV charging to boost your business
TOUCH
Modern open platform
• Free CPMS, Operate your multi-vendor networks
• Use EV charging statistics for decisions
• Use cloud-based dynamic load management to top up the user experience
Contact us
TOUCH
Reduce OPEX and scale
• By 80% with eMabler APIs
• Use your existing business systems
• Leverage your client base
• Work with APIs
Contact us
TOUCH
Stay ahead competitors
• And move faster
• Leverage the data to launch new revenue
• Ensure the best user experience
Contact us
For Free
Manage, Operate and Integrate
The eMabler Charge Point Management System provides full features to manage and operate your EV charging services and infrastructure without having to dive into charging-specific complexity.
Build it your EV charging service
Integrate with APIs
eMabler's charge point management system removes the complexities of EV charging and allows you to focus on scaling the business.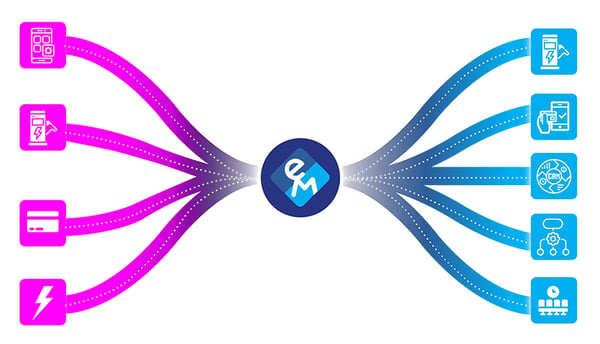 Not all Charge Point Management Systems are equal!
How eMabler's system is better
At eMabler we create a more sustainable future by making eMobility more accessible with our API-First Electric Vehicle Charging Platform.
TOUCH
NO FIXED COST
• Free Charge Point Management System
• No cost per connected charge point
• Only transaction fee per charging session
TOUCH
STATE OF ART
• The system is built to manage large scale multi-vendor networks
• Cloud Dynamic Load Management supports connection to external systems
TOUCH
LEVERAGE EV charging data
LEVERAGE EV charging data
• Connect EV charging service with relevant systems and utilize the data
• New revenue streams
• Better end-user experience with existing applications
Read more
Free Charge Point Management System
Features
Building your EV charging service is easy – we allow you to focus on differentiating yourself on the market by taking care of the technical stuff.
OCPP Gateway
Our OCPP gateway supports chargers from all leading manufacturers and if your charger is not certified yet, we'll take care of it.
Driver management
Manage drivers and charging tags with both broad and granular access controls.
Push APIs
In addition to restful request-response APIs, we also provide push messages via webhooks and various message queues.
Site management
Sites can be used to group drivers, chargers and operators to manage their access rights.
OCPI Integrations
Want to get users of other charging networks to your chargers? No problem, our OCPI integration allows you to make roaming agreements with virtually anyone.
White label public charging app
Get started in public charging in minutes – our partners provide white label charging apps that give a flying start to your business.
Map integrations
Many drivers find their chargers via either car navigation systems or their phone maps. We can get your chargers in both.
Multi vendor load management
Having a multi-vendor charger support in the backend is not enough, you also need to do load balancing across different vendors. We've got you.
eMabler's Charge Point Management System (CPMS)
is the only industry-specific system needed to operate electric vehicle (EV) charging services. All other functions can be implemented with commercial systems. We have APIs to integrate EV charging services with commercial systems!
NO CHARGER VENDOR LOCK
You can build and operate multi-vendor charge point networks. We integrate any OCPP charger within one day.
EFFICIENT OPERATION
Provides a polished user interface for common administrative tasks to manage chargers, groups, load management, APIs and user rights.
SINGLE SOLUTION FOR MULTIPLE USES
Robust user access control with charger, user and operator groups for fine-grained and effortless access management.
LEVERAGE YOUR SYSTEMS WITH APIs
Full-featured API for integrations, including JSON/REST API for command & control, configuration and statistics, webhooks for responding to events. Possibility for custom formats and integrations including queues and message brokers.
FREE MANAGEMENT SYSTEM
The Developer- package gets you started and you can upgrade it to a Starter or a Custom- package as your business grows and specific needs arise.
CLOUD ENERGY MANAGEMENT
Energy management ensures maximum service experience while protecting the fuses for the charging group. Our load management supports multi-vendor installations. You can add an external meter and Spot-optimizer to manage your electricity cost.
Read some of our relevant articles
Electric vehicle charging services