Meet Visa Parviainen Chief Ecosystems and Partners Officer at eMabler
What do you do at eMabler?
I work as the Chief Ecosystems and Partners Officer, an unusual title for sure. Unlike some other players in the e-mobility space rather than building a single monolithic platform to provide everything needed to build an EV charging business, eMabler is heavily focused on working with other companies to combine different products to give our customers maximum flexibility. My job is to find the right partners to work with and coordinate our work to deliver joint functionality.
In practice, on a typical day I usually have many meetings, I work with our CEO Juha to discuss our market strategy and the needs of our customers to better understand what is needed and speak with potential partners to understand what they have to offer. I then work with our CTO and the rest of the technical team to figure out what is needed to make the two solutions work together. My job requires both technical experience as well as organizational and sales skills.
What is your background?
I originally studied software development. On the second year of my studies a visiting lecturer talked about the problem of communication between developers and business stakeholders and how many projects run into trouble because the two groups don't really understand one another well. I found this ridiculous. No way developers don't understand business, how hard could it be? The following week I barged into the office of a friendly professor Petri Vesikivi, a former Nokia executive to demand to know if he felt if this was true. Petri was patient with the eager young man and explained that this is indeed a problem and on that day I decided that this would be my focus. I would be the guy that knows tech and business. I'm still on that journey.
After school I worked with technology consultancy firm Eficode. I started out as a software developer trainee and in my first development discussion with then CEO Risto Virkkala I told him that my dream was to try my hand at project management. I was very surprised when three months later he gave me a project to run. Over the next several years, I worked in various functions, including heading several of the company's business lines.
Visa, how did you end up working for eMabler?
I met Juha when he was the CEO of one of our customers. He eventually moved on to head Ensto's EV charging business, but we kept in touch and I eventually started feeling that I would want to work with a more product oriented business, which is how I ended up working at Ensto. At Ensto I met Ville, who was heading Ensto's software development division. After Ensto, I worked at Mount Kelvin, an IoT firm focused on hotel room automation, but we kept in touch with Ville and Juha who were starting to think that a company of their own would be a good idea. I had talked to them throughout their journey of founding the company and starting to develop the product, I don't think any of us really thought about me joining the company at first, but that's what eventually happened. The promise of working in electromobility again was always an enticing proposition, it combines three things that are important to me.
I remember the first time I drove an electric car. I was visiting Florida to watch the launch of the Maven Mars atmosphere probe in 2013 and Tesla had recently launched their Model S. The car wasn't available anywhere in Europe and I really wanted to try it. As a result of some minor shenanigans I managed to talk myself into a private demonstration at Tesla's Miami showroom and the first time I put the pedal down I was convinced that this is the future. If an environmentally friendly technology can be this much better than the alternative, it will win. I still believe that.
Working with a technology so obviously superior both in experience and environmental impact is brilliant, but there is a kind of magic to working in a context that combines hardware and software. Creating software that manipulates the physical reality is as close as one can get to being a proper wizard in the real world and compared to that working in a pure software context is just kind of… Boring.
Visa, what is it like working at eMabler?
I have a family, two daughters, and my wife. Having small children can be an issue with working in some startups and this concerned me for a moment. One of the reasons I felt comfortable joining eMabler was, that so many of the people in the company also had children of their own and the culture reflects that – I've never felt that I have to explain myself or apologize for when my family life presents inevitable complications.
What I like about working at eMabler is, that I can count on my co-workers to support me when my own skills fall short, which happens a lot. The EV charging industry connects many areas of expertise, communications protocols, electrical safety, energy markets and hardware to name a few. I've heard it said: "If you are the smartest person in the room, you are in the wrong room". This is the right room for sure.
I've only worked at eMabler since fall 2021 and starting in a new company in the middle of the pandemic unsurprisingly presents it's own challenges. We mostly work remotely, which means I have not had the opportunity to spend as much time with my co-workers as I'd like. Working in a venture-backed startup of course presents it's own challenges, thinking about business in terms of funding rounds is not something I've had to do a lot before, but the experience is welcome.
What do you do when you are not working?
In addition to spending time with my family, I like to build things. Electronics, 3D printing, woodworking, and programming are my favorite ways of spending time. During summers I try to spend as much time as I can in the Finnish archipelago. My ancestors used to live in a small island in the eastern part of the Finnish gulf building ships and running trade between Estonia and the Finnish mainland. The property still exists, and I like to tell people that some of the buildings there are older than the country they stand-in. When there, I try to spend my time trying to make sure the place will still exist for future generations. This also ties into my motivation to work in an industry which will increase our chances to combat climate change. If we fail in our battle with climate change my ancestral home – and a small but important piece of history – will be lost.
---
eMabler
Based in Helsinki, Finland. We believe that eMobility is the way forward, having worked in the industry for over a decade and we see a great boom in eMobility. We've also seen many platform providers develop closed ecosystems and realized that there's a need for a more flexible solution that focuses on end-user experience.

That's why we decided to build an open platform that lets you integrate your EV charging data into any existing systems, please contact us.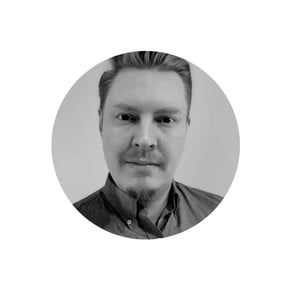 Visa Parviainen
Visa is a business technologist with a diverse background in software and hardware, including IoT, electromobility and business development.